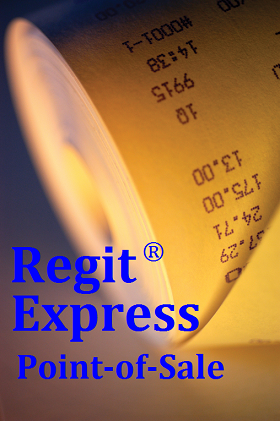 'New'
Free App
Remote Transactions
American Precision
InstrumentSs
PO Box 729
Arbuckle, CA 95912
USA



Point-of Sale
Software Since 1984
American Precision Instruments

Sorry, the Regit Express Plus Version has been discontinued for New Users and now will be offered for Free only to those users with an unexpired subscription to the 'PLUS' version.

Existing 'Plus' Users to get your Free Lifetime Date Code -- Click Here


Regit Express Plus for Networks
(Please note that when using Regit Express Plus single register system, no networking is needed)
for
One, Two, or Three Registers
Only $1.50 /month for Single (1) Register
Only $2 /month for 2 Registers

Only $3 /month for a total of 3 Registers
Regit Express Plus also comes with some extra features not included in the free version:
Dual Monitor Support for using a second monitor as a customer display. Includes an option to use 1/3 of the second monitor to display an advertisement image. The other 2/3's of the screen shows the ongoing transaction.

Email Customer Receipts automatically. Will Email receipts to identified customers automatically, or customer's past receipts can be emailed upon request.

Email End-of-Day Reports automatically. Will automatically Email reports when closing.

Customer Pricing with 4 customer price levels. Each product and each level can have a fixed cost, discounted percent from the standard price, or cost plus percent increase from the current cost.

Product Image Displays on Product Information Window. The Product Information window now has the capability to display an image of your products.

Regit Express Purchase Order Module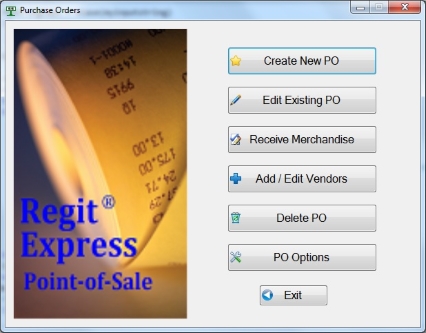 Stocktake Module for inventory checking and updating. Use with EZInventory Android or Laptop versions.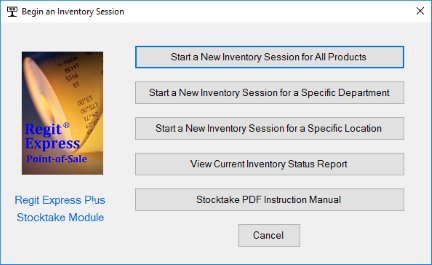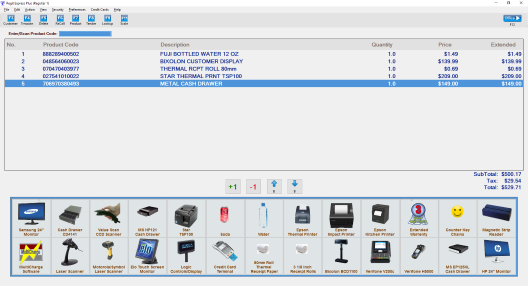 Bar Code Scan List -- Android App Prints bar coded lists for customers to take to checkout.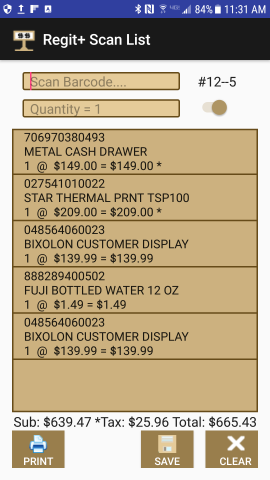 =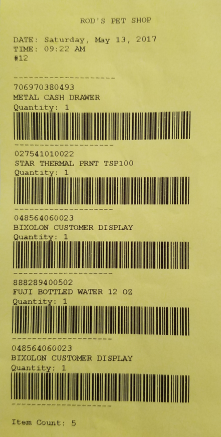 Remote Item Lookup -- Android App Lets you take your Inventory Information with you.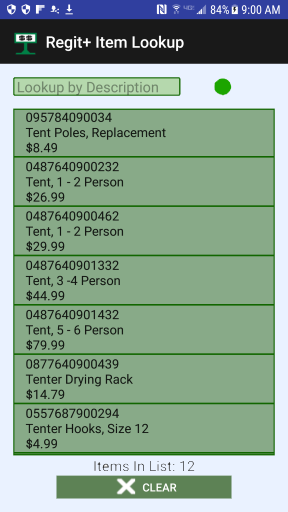 How to get started:
Regit Express Plus is already loaded on you computer.
Open your Windows Explorer/My Computer (shortcut keys Windows Logo Key plus E Key).

Go to your C: drive and find and open the RegitExpressV4 folder. In that folder double click the RegitExpress+R1.exe file. You will be asked if you are ready to begin your 30-day trial.

Click OK and Regit Express Plus will start.

A matching red icon will be added to your desktop to distinguish between Regit Express Plus and Regit Express (free version blue icon).


You are never "locked in". Regit Express Plus and Regit Express (Free Version) are 100% compatible. Any transaction you process in one will also be recorded in the other (they are using the same databases). This means that all your transactions and sales information will be exactly the same when you begin using Regit Express Plus. It also means if you decide not to use Regit Express Plus after the trial period or purchased period has expired, you can simply begin using the Regit Express Free Version again. All your data will be the same, there's nothing extra to do. Try it. Run a transaction or change some data in Regit Express Plus (or vice versa), then open Regit Express Free Version and you will see it has been recorded and is exactly the same.
The trial version also allows you to network a second register. Download and install the Register 2 installation program on your networked computer (Available Below). If you decide to continue using the PLUS version after the 30 days, we will send you a Expiration Date Code that keeps it from expiring. Remember, if you let it expire, you can always use the Free version which will contain the exact same data.
Extend Regit Express Plus' Expiration Date Now
If you are US customer processing credit cards with one of are processing partners (Signature Processing, XCharge, or Merchant Warehouse), and want to use Regit Express Plus for Networks, there is no annual fee, your Merchant Processor is covering it for you. Email us at cs14@free-pos-software.com with the name of the processor you are using and we will return an activation code.
DOWNLOADS
| | |
| --- | --- |
| Regit Express Version 4.0.5.9 | |
| Instructions for Upgrading Regit Express Version 3 to Regit Express Version 4 | |
| Regit Upgrade Patch 4.0.5.9 for upgrading earlier version 4's (not to upgrade version 3) | |
| Regit Express Plus User's Manual (included in Regit Express download/install) | |
| Regit Express Plus Register 2 Installation/Setup (be sure to install Microsofts' free .Net Framework 4.5) | |
| Regit Express Plus Register 3 Installation/Setup (be sure to install Microsofts' free .Net Framework 4.5) | |
| Working with Networked Registers Information/Documentation/Setup | |
| Regit Express Purchase Order Module Manual | |
| Scan List Standalone Bluetooth Print Listener | |